Juke & The Blue Joint
Modern Blues
---
Juke & The Blue Joint Frank Hüsch Blue Joy Music, Ringstr. 21a, 57586 Weitefeld | Tel.: 02743/2617 oder 0170/7739349 | Mail: frank.huesch.bjm@gmx.de
Jörg Weigand, Am Witschert 18, 57072 Siegen | Tel.: 0271/335535
---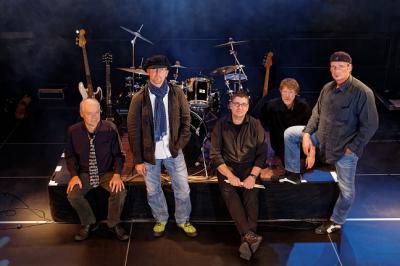 Repertoire:
Von
"Festival-Sets"
(45 bis 70 min.) bis hin zu 4 Stunden Clubprogramm. Außerdem ist die Band auch immer mit Special Guests zu buchen:
"Juke & The Blue Joint meets Ron Williams"
(ständig, auf Anfrage).
"Juke & The Blue Joint feat. Andy Just"
(1 Tour jährlich).
Besetzung:
Alex Weiß (vocals, guitar), Stefan Schlosser (keyboards, backing vocals), Uwe Kern (bass), Frank Hüsch (drums).
Auftritte:
"Jährlich spielen wir rund 40 Konzerte, u.a. viele 'Supports' für international bekannte Musiker/Bands, wie z.B. ein besonderes Highlight: ein gemeinsames Konzert mit 'B.B. King & The B.B. King Blues Band'.
Club- und Festivalkonzerte bundesweit sowie im benachbarten Ausland."
Technik:
Die Band verfügt über eine eigene Anlage, die für Clubs bis max. 200 Menschen ausreicht.
"Die Band wurde im November 1990 gegründet und zählt mittlerweile zu den musikalisch interessantesten Blues Bands der deutschen Szene. Neben zahlreichen Clubkonzerten spielte die Gruppe eine Reihe von Blues-, Rock-, und Jazz-Festivals/Specials mit u.a. 'B.B. King'. 'Jean Shy'. 'Blood Sweat & Tears'. 'Blues Company'. 'Lucky Peterson'. 'Angela Brown'. 'Chris Farlow'. 'Paul Field'. 'Luther Allison'. 'Errol Dixon'. 'Mitchel Forman & Chuck Loeb Band'. 'Das Dritte Ohr'. 'Die Zöllner'. 'Joachim Kühn Quartet'. 'Alex Oriental Experience'. 'Paul Lamp & The Kingsnakes'. Als definitiver Höhepunkt muss aber das gemeinsame Konzert mit dem wohl größten lebenden Bluesmusiker B.B. King, am 01.12.1994 in der Siegerlandhalle gewertet werden. King zeigte sich beeindruckt und begeistert von der Band und lud sie nach dem Konzert in seine Garderobe ein: 'Ihr habt einen ganz ungewöhnlichen Sound. Ich mag diese Art von Modern Blues wirklich sehr. Ich bin kein Kritiker und würde auch nie eine Musik als gut oder schlecht beurteilen. Ich höre sehr, sehr viel Musik. Ich höre Jazz von hochgelobten Jazzmusikern - aber oft bewegt sie mich nicht, aber diese Musik - die bewegt mich wirklich. Ich meine das sehr ernst, ihr könnt euch absolut auf mich berufen, könnt mich gerne in eurem Material zitieren - ich stehe zu meinem Wort. Was ihr macht, ist einfach sehr gut. sehr guter Beat, gute Arrangements, gute Horns, eine tolle Harp - yeah, was wollt ihr mehr?' (B.B. King).""Ansteckende Spielfreude. Bei diesem Konzert wurde die Band höchsten Ansprüchen gerecht."
(Wolfsburger Nachrichten)
"Im Rausch des Blues."
(Rhein-Lahn-Zeitung)
"Es wird Bluesmusik zelebriert von allererster Güte. Es gibt Tage, da muss man sich kneifen, ob man nicht träumt."
(WR)
"Hochexplosiver Blues-Cocktail."
(Rhein-Zeitung)
"Blues mit vollem Einsatz. Die heißeste R&B Band der letzten Jahre."
(Siegener Zeitung).
---
Siehe auch:
Musik / Musikgruppen:
Brucher Blues Band
Medien / Presse / Magazine:
Rhein-Zeitung
Medien / Presse / Magazine:
Westfälische Rundschau Siegen
Medien / Presse / Magazine:
Westfälische Rundschau, Redaktion Wittgenstein
Veranstaltungsorte / Siegen:
Siegerlandhalle
---
© Kultur!Büro. Kreis Siegen-Wittgenstein - Kulturhandbuch im Internet • KHB 984.HTM / 31.10.2003 |