Airomatics
Gitarren- & Gesangs-Duo
---
---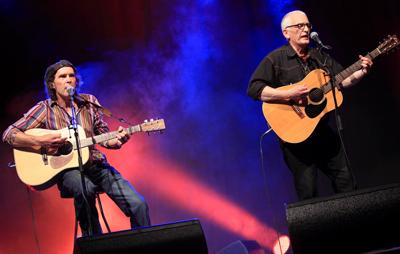 Repertoire:
Gitarren- Gesangs-Duo in Tradition des Singin`/Songwritin`. Songs (eigene, Schwerpunkt Sixties), R&B, Balladen. Programm (mehrstündig bis abendfüllend) auf Wunsch und Absprache.

Besetzung:
Rudolf Bieler (Gesang, Gitarre, Harp. Div. Perc.), Peter Kräuter (Gesang, Gitarre, Harp. Div. Perc.).
Zur Musikgruppe:
Bieler und Kräuter trafen sich seiner Zeit mit der Idee, eigene Stücke sowie Songs der Sechziger mit R&B in einem akkustischen Projekt zu kombinieren. Inzwischen sind sie bundesweit gereist (u.a. mit Südwestfalenvarieté "Sterne des Südens" oder Monkey Jump Festival), und wo sie auftraten, hatten sie stets ein begeistertes Publikum an ihrer Seite. Das Erfolgsrezept: 2 Interpreten unterschiedlich musikalischer Herkunft in einem gemeinsamen Projekt, 2 groovende Gitarren, unverstellte Lebenspoesie/Alltagsgeschichten, das Ganze angereichert mit feinem R&B nach dem Motto: BACK TO THE ROOTS.

"Bei dieser Art von Musik läßt es sich übrigens trefflich entspannen. Das Publikum hatte seinen Spaß an den Airomatics und geizte denn auch nicht mit Beifall." (Westfälische Rundschau).
---
Siehe auch:
Musik / Musiker:
Rudolf Bieler
Theater / Kleinkunst / Theatergruppen:
Sterne des Südens
Medien / Presse / Magazine:
Westfälische Rundschau Siegen
---
© Kultur!Büro. Kreis Siegen-Wittgenstein - Kulturhandbuch im Internet • KHB 2712.HTM / 11.09.2013 |