FALCONZ` (gegr. 1990 als "Falconz Blues Band")
Bluesrock
---
---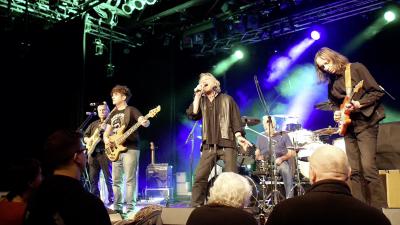 Repertoire:
2 1/2 Stunden Bluesrock (ausschließlich eigene Stücke)..

Besetzung:
Jo Lehnert (Vocals)
Werner Maria Schneider (Rhythm Guitar & Backing Vocals)
Stephan Krause (Lead Guitar)
Daniel Noriely (Bass & Backing Vocals)
Matthias Georg (Drums)

Veröffentlichungen:
"Living the Blues" (2000), "Land of Magic" (2003), "Lift Me Up" (2007), "FALCONZ` ... back on air" (EP, 2015).

Auftritte:
Apeldoorn (NL), Bluescafe. Duisburg, Red Rooster. Oberhausen, Crowded House. Hachenburg, Pits Kneipe. Schleiz - größtes deutsches Bikerfestival. Biesenthal - größtes europäisches Harley-Festival. Koblenz, Cafe Hahn. Siegen, Jazz-Club Oase. Stadtfeste und Monkey Jumps in mehreren Städten. Meinerzhagen im Vorprogramm von Manfred Man`s Earth Band. Kreuztal im Vorprogramm von FISH. Siegen, Rahmenprogramm 'Deutscher Rock&Pop Preis 2014 und viele andere.

Technik:
PA für kleinere Club-Gigs vorhanden.

"Liebe Freunde der röhrenverstärkten Gitarrenklänge, hier gibt's richtig was Gutes auf die Ohren. Rauchig in der Kopfnote, kraftvoll im Fundament, erdig im Abgang: Fünf hochprozentige Siegerländer Jungs, seit Jahrzehnten in Eichenfässern gereift, zelebrieren 'Volle-Pulle-Bluesrock' in authentischer Old-School-Manier. Die Mannen um den Gitarristen Werner Maria Schneider und Matthias Georg am Schlagzeug zählen zu den Rock-Urgesteinen im Siegerland. Schon in den Anfangsjahren, ursprünglich ab 1990 als »Falconz Blues Band«, wurden auch ganz große Bühnen bespielt, u.a. im Vorprogramm von SANTANA und FISH. Mittlerweile bedient der Vollblutmusiker Daniel Noriely die tiefen Frequenzen, und die Leadgitarre singt in den virtuosen Händen von Stephan Krause. Ende 2013 fand man mit Jo Lehnert einen charismatischen neuen Frontmann. Das 'Best of' der ausschließlich eigenen Songs wurde komplett überarbeitet und durch diverse neue Sahnestücke ergänzt. Und da jetzt alles einen Gang rauer klingt, hat man – auch wenn noch der ein oder andere Blues auf der Setlist steht – den Namenszusatz kurzerhand gestrichen: FALCONZ' ... back on air!"
---
Siehe auch:
Musik / Musiker:
Matthias Georg
Veranstalter / Regionale Veranstalter:
Jazz-Club Oase e.V.
---
© Kultur!Büro. Kreis Siegen-Wittgenstein - Kulturhandbuch im Internet • KHB 2609.HTM / 02.08.2016 |