Ticket to Happiness
Indie Folk
---
---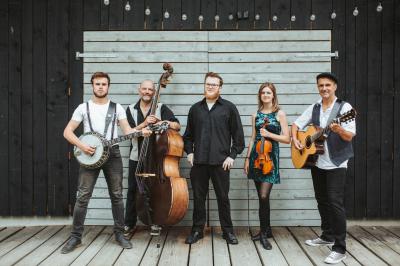 Besetzung:
Jan Philipp - Gesang
Yannick - Banjo, Mandoline, Gitarre, bassdrum, Gesang
Patrick - Mandoline, Gitarre, Gesang
Mona - Violine, Gesang
Stefan - Kontrabass
Johannes - Gitarre, Gesang
Repertoire:
Mischung aus schnellen tanzbaren Folksongs, gefühlvollen Balladen und virtuosen Instrumentalstücken. Vornehmlich eigene Originalsongs, mal im Stile südeuropäischer Straßenmusik, mal beeinflusst durch irische, britische oder amerikanische Folkmusik.

Technik:
Musikanlage (PA) für Veranstaltungen bis 200 Personen vorhanden.
Zur Band:
Ticket to happiness ist eine junge dynamische Folkband aus Siegen/Münster, die seit 2016 durch authentische und energiegeladene akustische Musik die Zuhörer in ihren Bann zieht. Angetrieben von den beats der bassdrum und coolen Gitarren- und Banjo-Riffs nimmt Ticket to happiness seine Zuhörer mit auf eine spannende musikalische Reise … mal im Gefühl südeuropäischer Straßenmusik, mal im Stil moderner irischer, amerikanischer oder britischer Folkmusik… immer auf der Suche nach originellen und unverfälschten Hörerlebnissen.
Ticket to happiness hat bereits zahlreiche Auftritte in Musikclubs, auf Festivals (Rudolstadt, Kultur Pur, ...) sowie in Radiokonzerten erfolgreich absolviert und dabei das Publikum begeistern können. Ein großer Erfolg gelang der Band 2018 durch den Gewinn vohn 8 Preisen beim Deutschen Rock und Pop Preis, u.a. als beste Folkband, bester Folk- und Countrysänger, beste Folk-CD und bester Folksong. Viel Aufmerksamkeit erlangte die Band durch das erfolgreiche Debutalbum "All Aboard" 2018.
---
---
© Kultur!Büro. Kreis Siegen-Wittgenstein - Kulturhandbuch im Internet • KHB 3292.HTM / 15.11.2019 |