subsoniXs
Alternative Rock
---
SubsoniXs, Hüttenweg 4, 57555 Mudersbach
Thomas Wied, Am Stein 22, 57080 Siegen | Tel.: 0171/7524682
---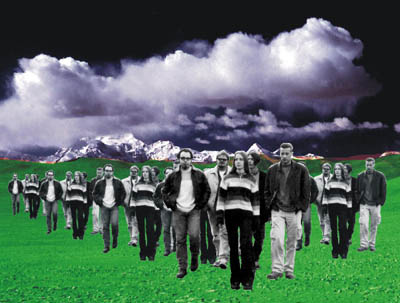 Repertoire:
2 Stunden Eigenkompositionen und Coversongs.

Besetzung:
Sonja Schuhen (Gesang), Thomas `Gulli` Wied (Gesang, Gitarre), Rubén Fernández del Campo (Gitarre), Stefan Kaczmarek (Bass), Bänny Klauschke (Schlagzeug).

Technik:
Nach Absprache.

Auftritte:
3. Platz Rockförderpreis der Stadt Siegen 1998. dreimalige Teilnahme bei Rock an der Sieg. 1996 und 1998 Vorgruppe bei "Paddy goes to Hollyhead". Demo-MC "Return to zero", 1998. CD "sentimental you", 1999. Vertrag mit Internet-Label "Joyentertainment" München.
---
Siehe auch:
Musik / Musiker:
Rubén Fernández del Campo Garcia
---
© Kultur!Büro. Kreis Siegen-Wittgenstein - Kulturhandbuch im Internet • KHB 2165.HTM / 04.07.2005 |