World Premiere:
The Painting of Paul McCartney
From 1st May to 25th July in the "Lÿz" Art Forum in Siegen

In 1999 the university town of Siegen in the south of Westphalia is presenting an art event of very special dimensions, for
PAUL McCARTNEY paintings is a world premiere for this painter's work.

Paul McCartney (born in Liverpool in 1942) has an extraordinary talent which is not confined to music but extends to painting, too. He has had a passion for drawing ever since he was a boy, and during his time with the Beatles he started his own art collection. Since 1983 he has set up studios in the south of England and in the USA, where he has been intensively exploring the medium of painting. His works are partly influenced by the American school of Abstract Expressionists, an art form which is powerfully colourful and emotional, and free and impulsive in the application of paint, and whose major representative, Willem de Kooning, was a personal friend of McCartney's. Further influences to be seen are Pop Art and surrealism. Thematically Paul McCartney's work is multi-layered and rigorous in composition, but what is most characteristic is the free association with which he responds to landscapes, lighting or other visual stimuli and the way in which he activates his inner stock of images.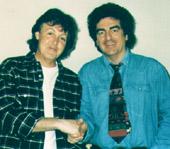 It was five years ago that Wolfgang Suttner, Cultural Events Officer for the Siegen-Wittgenstein district in Westphalia, a man with many years of experience in organising exhibitions, first came into contact with McCartney's double artistic gift. During the course of many visits to the painter's studio, he got together with the artist to review the complete oeuvre. The result is to seen from 1st May to 25th July, when the "Lÿz" Art Forum in Siegen will be showing the best of McCartney's work on an area of approx. 900 m².

Alongside the paintings the exhibition will also present original photographs by Linda McCartney, giving an introduction to the painter's oeuvre and the sources of his inspiration, and the video installation 'feedback', for which Paul McCartney also designed the monitor-sculptures.
A catalogue will be published to coincide with the exhibition, containing approx. 80 coloured reproductions and 20 black and white prints by Linda McCartney. These previously unpublished pictures and photos are accompanied by informative articles by Brian Clarke, Barry Miles (London), Wolfgang Suttner (the director of the exhibition) and Christoph Tannert (Berlin), as well as by extensive excerpts from exclusive interviews in which Paul McCartney talks about his art.
PAUL McCARTNEY paintings , Kunstforum Lÿz, Siegen, 1. Mai bis 25. Juli 1999
Konzeption & Organisation der Ausstellung: Kultur!Büro. Kreis Siegen-Wittgenstein
Paintings © Paul McCartney. Photographs of the artist © Estate of Linda McCartney
[Kreis Siegen-Wittgenstein Home] [Kultur!Büro] [Kulturpur Home]
[Mailto:info@siwikultur.de]