SiegCityBand
---
SiegCityBand Uwe Lein, Am Kornberg 60, 57076 Siegen | Tel.: 0175-2423651
SiegCityBand, Auf´m Strüdchen 11, 57555 Mudersbach | Tel.: 0152/04265037
---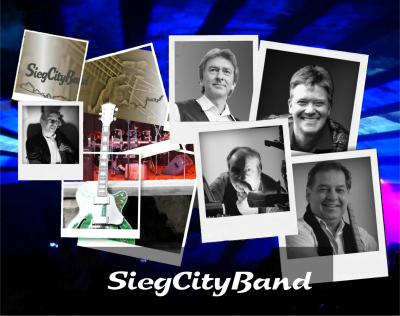 Wir covern Songs, die Musikgeschichte geschrieben haben.

Balladen, Rock- und Popsongs der 60er, 70er, 80er Jahre und eine Auswahl der aktuellen Charts.
Für unser Publikum heißt es: ROCK AROUND THE CLOCK und BORN TO BE WILD, wenn wir LIFE IS LIFE und YOU GOT IT vollkommen WONDERFUL TONIGHT auf der Bühne spielen.
Bei uns geht fast alles – außer stillstehen!
Musiker:
Axel Erner, Schlagzeug / Percussion
Manfred Häbel, Gitarre/ Vocal
Peter Behnke, Liedgitarre / Vocal
Thomas Schauerte, Keyboards / Vocal
Uwe lein, Bass / Vocal
Technik:
Instrumente, P.A., Monitoring, Mischpulte, Lichtanlage, Laser- und Nebeleffekte vorhanden.
---
© Kultur!Büro. Kreis Siegen-Wittgenstein - Kulturhandbuch im Internet • KHB 3273.HTM / 11.07.2016 |