Squeeze The Monkey
Party-Rockcover
---
Mark Hochhard, Am Schwarzen Barth 87, 57072 Siegen | Tel.: 0271/2318787 o. 0171/7536571
Andreas Kolb, Küstriner Str. 3, 57072 Siegen | Tel.: 0271/2330146 o. 0179/7083409
---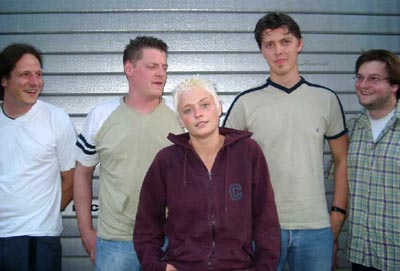 Besetzung:
Mark Hochhard (Bass, Leadgesang), Anja Dickel (Leadgesang), Andreas Kolb (Gitarre, Backgroundgesang), Wolfgang König (Schlagzeug), Heiko Schmidt (Gitarre, Backgroundgesang).

Technik:
PA ist für Club-Gigs vorhanden. Bei größeren Veranstaltungen ist eine Absprache mit dem Veranstalter unbedingt nötig.
Zur Musikgruppe:
"Squeeze The Monkey (STM) wurde vor ca. 3 Jahren ins Leben gerufen mit dem Auftrag Songs aus verschiedenen Epochen unseres Lebens darzubieten.
Dabei setzen wir auf energiegeladenen Rock-Sound für jedermann. Unser ca. dreistündiges Programm reicht von `Die Ärzte` über `Melissa Etheridge`, `Blink 182`, `Manowar` bis hin zu Rock`nïRoll-Klassikern von `Chuck Berry` und `Little Richard`. Zu unseren bisherigen Auftritten zählten Stadtfeste in Siegen, Olpe, zahlreiche Kneipen-Gigs (unter anderem Monkey Jump in Siegen als Ersatz für `Lucy in the sky`) und Biker-Festivals."
---
Siehe auch:
Musik / Musikgruppen:
Lucy in the Sky (2013 aufgelöst)
---
© Kultur!Büro. Kreis Siegen-Wittgenstein - Kulturhandbuch im Internet • KHB 2774.HTM / 31.10.2003 |